Struggling to choose between Montpellier or Biarritz for your upcoming French holiday? Each destination promises a distinct yet equally captivating French experience.
Montpellier, a bustling city in Southern France, is famous for its splendid medieval structures, verdant public squares, and lively student population. Its rich historical tapestry, modern pulse, thriving arts culture, and proximity to the warm Mediterranean coast make it a must-visit.
Conversely, Biarritz, nestled on the Basque coast of France, is a famous resort town that historically served as a retreat for European aristocracy. Presently, it is a magnet for global surfers, luxury aficionados, and those enamored by its refined architecture, golden beaches, and world-renowned cuisine.
This blog aims to unpack the distinctive allure of both Montpellier and Biarritz, helping you in selecting the French destination that aligns perfectly with your desires.
Montpellier
Located in southern France, this city is known for its rich history and vibrant culture. With a beautiful old town, lively nightlife, and stunning beaches nearby, this city has got plenty to offer. It's the perfect destination for those looking for a mix of history, relaxation, and culture.
Biarritz
Located in the Basque region of France, Biarritz is a small coastal town known for its beautiful beaches and world-class surfing. It's no wonder Biarritz is a popular destination for surfers, sun-seekers, and outdoor enthusiasts.
Pros and Cons of Montpellier and Biarritz
Montpellier
Pros:
Mediterranean Climate: Montpellier has a warm Mediterranean climate with hot summers and mild winters, which might be more appealing to those who prefer warmth.
Cultural Vibrancy: With a large student population, Montpellier has a youthful, dynamic atmosphere with many cultural events and festivals.
Historical Significance: Montpellier is rich in history and culture with several landmarks, including the Montpellier Cathedral and the Porte du Peyrou.
Vibrant Arts Scene: The city is a hub for arts and culture, boasting numerous art galleries, museums, and music festivals. The Montpellier Danse and Radio France festivals are renowned events that attract global audiences.
Great Food and Wine: Located in the Languedoc-Roussillon region, Montpellier offers delicious Southern French cuisine and is surrounded by some of France's largest vineyards.
Cons:
No Beachfront: While Montpellier is close to the Mediterranean Sea, it doesn't offer as many beachfront areas as Biarritz.
Smaller Surf Scene: Montpellier does not have the same reputation for surfing as Biarritz.
Summers: While the Mediterranean climate is a draw for many, the summers in Montpellier can be quite hot and might not be comfortable for everyone.
Best for: Those looking for a vibrant, youthful city with a warm climate and a mix of history and modernity.
Biarritz
Pros:
Excellent Beaches: Biarritz is renowned for its beautiful sandy beaches, which are larger and more numerous than those near Montpellier.
Surfing Capital: Biarritz is one of the best surfing destinations in Europe, attracting surfers from around the world.
Luxurious Atmosphere: Known as the "queen of resorts and the resort of kings", Biarritz has a luxurious, glamorous feel with its grand architecture and high-end boutiques.
Natural Beauty: The city is located on the Bay of Biscay and is surrounded by stunning natural landscapes, including mountains and lush countryside.
Rich Culture: The city's Basque culture is palpable in its architecture, festivals, and cuisine, offering a unique cultural experience.
Cons:
Cooler Climate: Biarritz, being on the Atlantic coast, tends to have cooler and more changeable weather than Montpellier.
Less Vibrant Nightlife: Compared to Montpellier, Biarritz has a quieter nightlife, which might not appeal to everyone.
Expensive: Biarritz is known for its luxury and glamour, which means that prices for accommodation, dining, and shopping can be quite high.
Weather: The weather can be unpredictable, with the possibility of rain even in the summer months. The Atlantic winds can also make the weather feel cooler than it is.
Best for: Beach lovers, surfers, and those who enjoy a more relaxed, luxurious atmosphere.
How long to stay in Montpellier
Montpellier is a relatively small city, you could easily see most of the attractions in two to three days. But, if you were planning on a longer break there are plenty of interesting towns and cities nearby. Béziers and Nîmes are just a short drive away and well worth a visit.
How long to stay in Biarritz
Biarritz is a relatively small town and can easily be seen in two to three days. However, there are plenty of other cities in the Basque country that are definitely worth a day trip to.
How much is food and drink in Montpellier and Biarritz?
| Item | Montpellier Price Range (€) | Biarritz Price Range (€) |
| --- | --- | --- |
| Beer | €5 – €7 | €4 – €7 |
| Glass of wine | €4 – €9 | €4 – €10 |
| Coffee | €2 – €4 | €2 – €4 |
| Meal at a midrange restaurant | €20 – €40 | €20 – €40 |
How much is it to stay in Montpellier or Biarritz?
| Accommodation Type | Montpellier Price Range (€/night) | Biarritz Price Range (€/night) |
| --- | --- | --- |
| Luxury Hotel | €200 – €600+ | €200 – €600+ |
| Midrange Hotel | €80 – €150 | €80 – €200 |
| Budget Hotel | €50 – €80 | €50 – €80 |
| Hostel | €20 – €40 | €20 – €40 |
When is the best time to visit Montpellier?
Montpellier is great to visit all year round. But it gets extremely busy during summer, especially in August when many French people are on vacation. Here are a few things to consider before booking:
Weather: Montpellier has a Mediterranean climate with mild winters and hot summers, you'll rarely see freezing temperatures here. It can get very hot in summer, so don't forget your sun cream. Nobody likes getting burnt!
Festivals: Montpellier hosts plenty of festivals throughout the year. Make sure you check the festival calendar before visiting. The Montpellier Danse Festival in June is very popular, along with the Montpellier International Guitar Festival in July. There's an extreme sports festival helped in May for those who fancy seeing something a little different.
Crowds: Like most destinations, Montpellier gets very busy during the summer months. If you want to avoid the crowds go in spring or autumn. Winter might also be a good option if you're not too bothered about the weather being colder.
When is the best time to visit Biarritz?
Biarritz is a popular destination all year round. But, the best time to visit all comes down to personal preference really. Here are a few things to consider before booking your trip to Biarritz:
Weather: Biarritz has a mild oceanic climate, winters are cool and summers are warm. There's usually a sea breeze so even in summer it's a good idea to pack a light jacket or sweater. September and October are good months to visit, the temperatures are mild and the summer crowds have gone home.
Festivals: Biarritz hosts a number of festivals throughout the year. The Wheels and Waves Festival is worth a visit and brings together bikers, surfers, and skateboarders for four days of fun!
Crowds: Biarritz gets very busy during the summer months as it's a popular holiday destination for the French. To avoid the crowds visit during spring or autumn.
Average Monthly Temperatures in Montpellier and Biarritz
Here's a table with the average monthly temperatures (in °C) and average rainfall (in mm) for Montpellier and Biarritz, based on historical data:
| Month | Montpellier Temperature | Montpellier Rainfall (mm) | Biarritz Temperature | Biarritz Rainfall (mm) |
| --- | --- | --- | --- | --- |
| January | 8°C | 52mm | 9°C | 138mm |
| February | 9°C | 44mm | 9°C | 101mm |
| March | 11°C | 38mm | 11°C | 85mm |
| April | 14°C | 47mm | 13°C | 82mm |
| May | 17°C | 43mm | 16°C | 72mm |
| June | 21°C | 23mm | 19°C | 63mm |
| July | 24°C | 14mm | 21°C | 58mm |
| August | 24°C | 23mm | 22°C | 66mm |
| September | 21°C | 68mm | 19°C | 79mm |
| October | 16°C | 86mm | 16°C | 95mm |
| November | 11°C | 61mm | 12°C | 105mm |
| December | 8°C | 50mm | 10°C | 119mm |
Getting around
Getting around Montpellier:
Being a compact city, Montpellier is very walkable. But for those that prefer to use public transport, the tram system covers most of the city and is very easy to use.
Buses are also a good option, there's an extensive bus network that covers the entire city that is cheap and easy to use. Tickets are time-based so if you needed to get a bus then a tram you could use the same ticket provided it's within the time limit.
Getting around Biarritz:
Biarritz is a small town so you can get around easily on foot. If you're looking to explore the surrounding areas, it might be a good idea to hire a car. There are also buses and trains that run between Biarritz and the nearby towns and cities.
Top things to do in Montpellier
Jardin des Plantes de Montpellier: Established in 1593, the Jardin des Plantes de Montpellier is one of the oldest botanical gardens in Europe! It feels like a quiet oasis in the heart of the city. There's a huge amount of plants, flowers, and trees to see here.
Le Corum: Le Corum is a large convention center in Montpellier that hosts concerts and exhibitions throughout the year. The architecture is really impressive and definitely worth looking at even if you don't go to see a show.
Place de la Comédie: Known as the egg for its shape, Place de la Comédie is Montpellier's biggest square. It's always full of life and a great place to sit down with a coffee and people-watch.
Musée Fabre: The Musée Fabre is an art gallery that houses an extensive collection of paintings and sculptures. With works from artists such as Rubens, Delacroix, and Courbet, it's a must-visit for art lovers.
Château de Flaugergues: Located just outside of Montpellier, this 18th-century château is surrounded by vineyards and olive groves. The château and its grounds are beautiful and look like something you'd see in a film. There are tours and wine-tasting sessions available.
Antigone District: This modern neighborhood on the banks of the Lez River is known for its unique architecture. Built in the 1980s, it's a great place for a relaxing walk.
Cathedral Saint-Pierre: This imposing cathedral was built in the 15th century, and is definitely worth a visit. The stained glass windows and rocket-like pillars at the front are particularly cool!
Promenade du Peyrou: This beautiful park offers amazing views of the city. It's got its own Arc De Triomphe and a huge statue of Louis XIV in the center.
Maison de la nature: Translated to the house of nature, these protected wetlands make a great day out. It is completely free to visit and offers a break from the hustle and bustle of the city. There's stunning scenery to look at and plenty of local wildlife.
Top things to do in Biarritz
Visit La Grande Plage: This beautiful sandy beach is a must-visit when visiting Biarritz. Swimmers, surfers, and sunbathers all love this beach, and for good reason! There are showers to use and lifeguards so you can swim safely.
Go to the Aquarium de Biarritz: Built into the side of a hill, this aquarium features a wide range of marine creatures from the Bay of Biscay and beyond. It's a great afternoon of entertainment for adults and kids alike.
Explore the Rocher de la Vierge: The rock formation is connected to the mainland by a footbridge. It offers amazing views of the ocean and coastline and also has a statue of the Virgin Mary. Try to visit at sunset for a spectacular view.
Musée Asiatica: This museum features an extensive collection of Asian art from China, Nepal, Tebet, and the rest of the Asian subcontinent. It's crazy to find such a collection in a small beachside resort in France. It €10 to enter and is definitely worth spending a couple of hours there.
Take a stroll around the Port des Pêcheurs: The little fishing port is nice for a relaxing afternoon watching the fishermen unload their catch and listening to the sound of the sea. There are little restaurants so you can grab a bit to eat while you unwind.
Walk along the La Côte des Basques: This scenic coastal path runs along the cliff tops between Biarritz and Saint-Jean-de-Luz. It's a relatively easy route and offers plenty of good spots to get amazing photos of the sea and the coastline.
Enjoy some local produce at Les Halles de Biarritz: This covered market is a food lover's paradise. It is packed with stalls selling fresh local produce, such as cheese, seafood, and charcuterie. It's the perfect place to snack on local food whilst taking in the ambiance.
Visit the Église Orthodoxe: This Russian Orthodox church is located on a hill overlooking Biarritz. The building itself is beautiful but could do with a renovation.
Play golf at Le Phare Golf Course: Located right in the heart of Biarritz, this stunning golf course offers spectacular views of the ocean. It's actually one of the oldest courses in France and has hosted plenty of prestigious tournaments.
Relax at Les Bains de Biarritz: This luxurious spa is located on the beachfront and offers a range of treatments and facilities, including a heated seawater pool, sauna, and hammam. It is the perfect place to unwind after a day of sightseeing.
Take a day trip to Bayonne: This charming town is known for its picturesque streets and delicious Basque food and is only a 30-minute bus ride away.
How to spend three days in Montpellier
Day 1:
Morning: Start the trip off with a visit to the Jardin des Plantes de Montpellier, one of the oldest botanical gardens in Europe. Wander through its beautiful gardens admiring the thousands of different plants.
Afternoon: After getting some lovely food at a local restaurant for lunch, head to the Antigone District for a relaxing afternoon seeing the modern architecture. Stop off at a cafe overlooking the river Lez for a quick coffee or glass of wine.
Evening: Head to Le Corum, a large convention center that hosts concerts and exhibitions throughout the year. Double-check to see if there are any shows on beforehand. There might be something good to watch! If not, go and look at the architecture, it's very impressive.
Day 2:
Morning: Start your day by exploring the historic center of Montpellier. Wander through the narrow streets and alleyways, stopping off for a coffee at a Place de la Comédie. Head over to the Saint-Pierre Cathedral and enjoy its impressive architecture.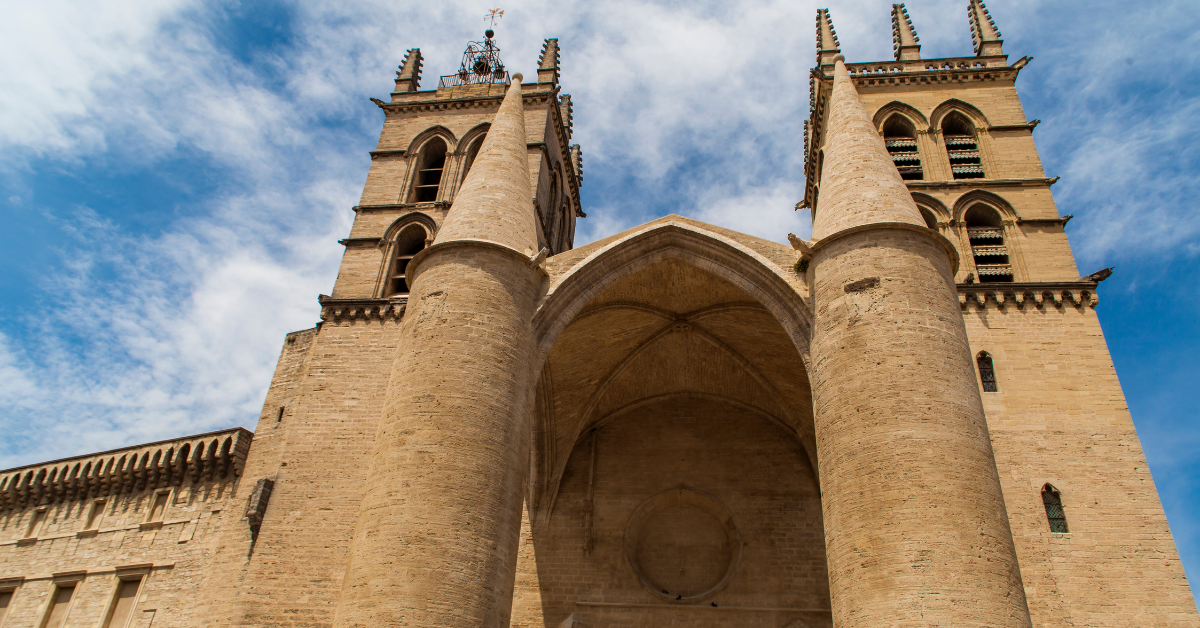 Afternoon: Visit the Musée Fabre, this art museum has a vast collection of art from the 15th-18th centuries. Bound to keep any art lover occupied all afternoon.
Evening: Head to Château de Flaugergues for a tour of the mansion and its grounds. Maybe even book a wine-tasting session afterward.
Day 3:
Morning: Have an early start and head to Maison de la Nature, these protected wetlands and just outside of the city and offer amazing scenery. A great way to unwind on your last day.
Afternoon: Located on the outskirts of Montpellier, Montpellier Zoo is home to over 120 species of animals. There's plenty to see and do, it's actually free to get in which is different from most zoos which cost a fortune.
Evening: Head over to the Promenade du Peyrou, this park has fantastic views over the city and is definitely worth a visit. There are plenty of opportunities for great photos with the Arc De Triomphe, gardens, and the statue of Louis XIV. It's especially beautiful as the sun is going down.
How to spend three days in Biarritz
Day 1:
Morning: Start your day with a walk along Grande Plage and take in the views of the ocean. Maybe go for a morning swim if the weather is nice.
Afternoon: Head to Biarritz Aquarium to the marine life of the Bay of Biscay. This aquarium has over 150 different species of fish and 7 species of shark. If you get there at 10:30 or 17:00 you can see them feeding the seals, very cute!
Evening: Enjoy a drink and some pintxos at one of the many bars in the Old Port area. It's a great place to relax and watch the sunset.
Day 2:
Morning: Biarritz is one of Europe's most famous surf destinations so why not give it a go? There are plenty of surf schools along the coast that cater to all levels, so there's really no excuse!
Afternoon: After lunch and drying off! Go for a walk along the Rocher de la Vierge. A rock formation that sits in the sea, connected to the land by a bridge. This is a great spot for photos of the ocean and the Biarritz coastline.
Evening: Wander down to the Port des Pêcheurs, this charming fishing port is filled with seafood restaurants. It's a perfect place to spend the evening eating and drinking whilst looking out over the harbor.
Day 3:
Morning: Get an early start and visit Les Halles de Biarritz. This market offers a great range of local produce, from cheeses to meats there's plenty to choose from. You could grab a coffee and nibble on some bits from the market.
Afternoon: Catch the bus to Bayonne. Located just 30 minutes from Biarritz, the charming town of Bayonne is a beautiful little city. Known for its picturesque streets and Basque cuisine it's a great day out. Make sure to try some of the famous Bayonne ham!
Evening: Get dinner in Bayonne's old town before heading back to Biarritz for a few drinks overlooking the ocean.
Montpellier and Biarritz Ratings
| Category | Montpellier | Biarritz |
| --- | --- | --- |
| Attractions | 8 | 8 |
| Accommodation | 7 | 7 |
| Food and drink | 9 | 9 |
| Safety | 8 | 8 |
| Transportation | 7 | 6 |
| Shopping | 6 | 7 |
| Culture and history | 7 | 6 |
| Nightlife | 8 | 8 |
| Total Score | 60 | 59 |