Which city is for you? Nice or Lyon
Nice or Lyon – it's a difficult choice. I suppose it all boils down to what sort of holiday you fancy. Do you want to relax by the sea, each seafood, and wander around in the sun? Or do you want to spend your time discovering the gastronomic capital of France, eating amazing food, and taking in the sights? If you're struggling to choose. Keep on reading, you're in the right place.
Nice
Nice quite literally has it all – sun, sea, sand, and history. It's a great option for travelers that want the option to experience the culture of a city break and the relaxing vibes of a beach holiday.
Lyon
A beautiful city located in the Rhône-Alpes region of France, Lyon is the third largest city in France. Once known for its role in the production and weaving of silk. It is known as the gastronomic capital of France
Pros and Cons of Nice and Lyon
Nice:
Pros:
Beautiful beaches – Nice has some of the most stunning beaches in France, with crystal clear waters and soft sandy shores.
Cultural attractions – Nice is home to a number of museums and cultural attractions, including the Museum of Modern and Contemporary Art and the Chagall Museum.
Picturesque Old Town – Nice's Old Town is a charming and picturesque neighborhood with colorful buildings, narrow streets, and plenty of restaurants and cafes.
Proximity to the French Riviera – Nice is an ideal base for exploring the French Riviera, with easy access to other coastal towns like Antibes, Cannes, and Monaco.
Great weather – Nice enjoys a warm Mediterranean climate with plenty of sunshine throughout the year.
Vibrant nightlife – Nice has a lively nightlife scene with plenty of bars, nightclubs, and live music venues to choose from.
Cons:
Crowded in peak season – During the summer months, Nice can get very crowded with tourists, making it difficult to find a quiet spot on the beach or in the Old Town.
Limited public transportation – While Nice does have a tram system, it can be limited in terms of coverage and frequency.
Hilly terrain – Nice is a hilly city, which can make it challenging for those with mobility issues.
Lack of parking – Finding parking in Nice can be a challenge, particularly in the Old Town and other popular areas.
Best for: Nice is best for travelers looking for a beautiful beach destination with a mix of cultural attractions, nightlife, and affordable accommodation.
Lyon:
Pros:
Rich history and culture – Lyon is a UNESCO World Heritage Site and boasts a wealth of historical and cultural attractions, including the Basilica of Notre-Dame de Fourvière and the Museum of Fine Arts of Lyon.
Gastronomic capital – Lyon is known as the gastronomic capital of France and offers a wide variety of delicious food and drink options.
Beautiful architecture – Lyon is home to some stunning architecture, including the Basilica of Notre-Dame de Fourvière and the Vieux Lyon neighborhood.
Proximity to the Alps – Lyon is located near the Alps, making it a great base for exploring this stunning mountain range.
Vibrant nightlife – Lyon has a lively nightlife scene, with plenty of bars, clubs, and music venues to choose from.
Outdoor activities – Lyon offers a variety of outdoor activities, including hiking, biking, and skiing in the nearby Alps.
Cons:
Less sunny weather – Lyon has a cooler and cloudier climate compared to Nice, which may not be ideal for travelers seeking warm weather.
Limited outdoor attractions – While Lyon does offer some outdoor activities, it does not have the same natural beauty and outdoor attractions as destinations like Nice.
Fewer beaches – Unlike Nice, Lyon does not have any beaches or coastal areas to explore.
Limited English signage – While many locals in Lyon speak English, the city's signage and public transportation announcements are primarily in French, which may be challenging for non-French speakers.
Best for: Lyon is best for travelers looking for a culturally rich destination with a vibrant nightlife, delicious cuisine, and outdoor activities like hiking and skiing.
How long to stay in Nice
A trip to Nice needs to be at least three days. But you could easily spend a week or two here. There's so much to do whether it be in Nice, or exploring the local area. Monaco and Cannes are a stone's throw away. You could even get a ferry to Corsica for a few nights if you were feeling adventurous!
How long to stay in Lyon
With Lyon being the third largest city in France, there's plenty to see and do. We'd recommend staying for at least two to three days, but you wouldn't get bored if you stayed for a bit longer. There are plenty of museums, parks, and landmarks to see. There are also plenty of interesting places to visit nearby. You could even visit Geneva, which is only two hours away by train.
How much is food and drink in Nice and Lyon?
| | Nice (€) | Lyon (€) |
| --- | --- | --- |
| Beer | 5 – 7 | 5 – 7 |
| Glass of Wine | 3 – 10 | 3 – 10 |
| Coffee | 1.50 – 3 | 1.50 – 3 |
| Meal at a Midrange Restaurant (Per Person) | 20 – 40 | 20 – 40 |
How much is it to stay in Nice or Lyon?
| Type of Accommodation | Nice (€ per night) | Lyon (€ per night) |
| --- | --- | --- |
| Luxury Hotel | 150 – 500+ | 150 – 500+ |
| Midrange Hotel | 70 – 150 | 70 – 150 |
| Budget Hotel | 40 – 70 | 40 – 70 |
| Hostel | 20 – 40 | 20 – 40 |
When is the best time to visit Nice?
Nice is a very popular tourist destination all year round. When to visit depends on personal preference. Here are a few things to consider before booking your trip:
Weather: Nice has a Mediterranean climate with mild winters and hot summers. Plan your trip between June and September if you want to make the most of the hot weather. Winters are mild compared to a lot of places, you'll rarely see it freezing here. Spring is probably the best all-around time to visit.
Crowds: Nice can get extremely busy during the summer months so visit during the off-season if you can be irritated by crowded places.
Events: There are several world-famous events held very close to Nice every year, like the Cannes Film Festival in May and the Monaco Grand Prix. If you want to experience something a bit different the Nice Carnival is a spectacular event. There are huge parades day and night, with floats, dancers, and all sorts of fun!
When is the best time to visit Lyon?
Lyon has mild weather year-round, making it a great destination to visit at any time of the year. Here are some things to consider:
Weather: The weather in Lyon is pretty mild throughout the year. Summers can be dry and hot, luckily there's plenty of outdoor space to enjoy the weather. Lyon does get colder in winter than other French cities like Bordeaux or Toulouse. It regularly drops below freezing and does snow on occasion. Luckily Lyon is famous for hot chocolate so make sure you warm up with one on a cold day.
Festivals: Lyon hosts a variety of festivals and events throughout the year, including the Festival of Lights in December, which is a must-see. The locals light candles in their windows in homage to the Virgin Mary and there are light installations throughout the city, it's pretty spectacular.
Crowds: As with most European cities peak time in Lyon is during the summer. But it doesn't suffer from the over-tourism as much as other better-known European cities like Paris or Barcelona. Spring is a good time to visit, as the weather is nice but the city isn't too busy.
Average Monthly Temperatures in Nice and Lyon
| Month | Nice Temperature (°C) | Nice Rainfall (mm) | Lyon Temperature (°C) | Lyon Rainfall (mm) |
| --- | --- | --- | --- | --- |
| January | 9°C | 69 mm | 3°C | 32 mm |
| February | 9°C | 50 mm | 5°C | 32 mm |
| March | 11°C | 45 mm | 8°C | 44 mm |
| April | 13°C | 60 mm | 11°C | 52 mm |
| May | 16°C | 50 mm | 15°C | 66 mm |
| June | 20°C | 30 mm | 19°C | 67 mm |
| July | 23°C | 10 mm | 22°C | 48 mm |
| August | 23°C | 20 mm | 22°C | 58 mm |
| September | 20°C | 40 mm | 18°C | 57 mm |
| October | 16°C | 70 mm | 13°C | 64 mm |
| November | 12°C | 90 mm | 8°C | 53 mm |
| December | 10°C | 80 mm | 4°C | 44 mm |
Getting around
Getting around Nice:
Nice has plenty of public transport options like buses, trams, and trains. The trams and buses cover most of the city and are both reliable.
But, on a nice day, you'd be better off walking everywhere. Just make sure you take some comfortable shoes. There really isn't a better way to see a city as beautiful as Nice other than on foot.
Getting around Lyon:
Lyon has a great public transport system. With buses, trams, and a metro system it's very easy to get around the city. If you're planning on making the most of the public transport here, make sure you get a City Card they're great for saving money. Walking is always a good option, it is a big city but it doesn't take hours to walk between attractions like Paris can do.
Taxis are readily available but not particularly cheap.
Top Things to do in Nice
Promenade des Anglais: This beautiful promenade stretches for 7km along the Mediterranean coast and is probably the most famous attraction in the city. The views are spectacular, you could literally spend a full day just wandering around and enjoying the view.
Vieille Ville: There is plenty to see and do in Nice's Old Town. Full of colorful buildings, cute streets, and cafes. You could spend a full day just ambling around doing very little other than eating and drinking.
Musée Matisse: Devoted to the works of Henri Matisse, this museum is located in a beautiful 17th-century villa. The gardens are very impressive, it's location on a hill also offers great views over the city. The art isn't too bad either.
Castle Hill: A must-see when in Nice, Castle Hill offers panoramic views over Nice and the Mediterranean. You can walk to the top via the stairs. It's a bit of a walk, so probably not a great idea with kids. There is also an elevator for those that don't fancy the stairs.
Musée Marc Chagall: This museum houses the largest collection of works by the Russian-French artist Marc Chagall. Located in a beautiful garden, it also features works by other contemporary artists.
Place Masséna: This stunning central square is the perfect place to sit with a coffee or a cold glass of white wine and watch the world go by. The architecture is very impressive and looks especially good at night when it's all lit up.
Jardin Albert 1er: The perfect place to relax and enjoy the sun, this beautiful park is located right in the heart of Nice next to the beach. Go in the evening and catch an amazing sunset, you won't regret it!
Palais Lascaris: This beautiful 17th-century baroque palace is now a museum that showcases the history of Nice and its culture. It features stunning architecture and artwork.
Parc Phoenix: This stunning botanical garden holds over 2,500 plant species and a large lake. There are even different types of exotic animals like flamingos and alligators!
Cimiez Monastery: Located very close to the Musée Matisse, this monastery is a great place to escape the hustle and bustle of the city. Make sure your phone is charged, you'll want to take plenty of photos of its beautiful gardens and views over Nice.
Top things to do in Lyon
Visit the Basilique Notre-Dame de Fourvière: This hilltop basilica is very impressive, and the unique architecture is very beautiful. Due to its location at the top of a hill, it offers amazing views of the city and river.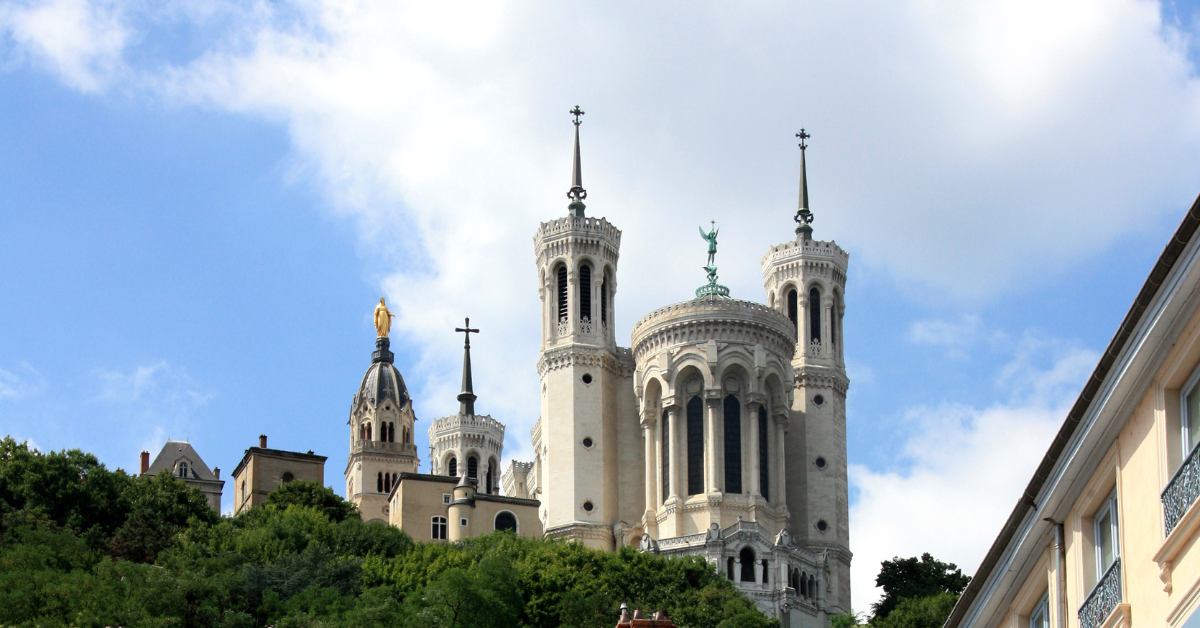 Explore the historic Vieux Lyon: Wander through the narrow streets of Vieux Lyon, the city's beautiful old town. This area is full of charming old houses, traditional restaurants and secret passageways called (les Traboules).
Check out the Musée des Beaux-Arts: This art museum in a former 17th century Abbey features an expansive collection of paintings, sculptures and decorative arts. It's definitely worth visiting!
Visit the Parc de la Tête d'Or: With an area of approximately 117 hectares, this is Lyon's largest urban park and a great place to relax and unwind on a nice day. There's a botanical garden, a boating lake, and even a zoo. Take a picnic on a warm day, you won't regret it!
Taste the local cuisine: World-renowned for its cuisine, there are more restaurants per head here than anywhere in France! Make sure you allow plenty of time to try local specialties like quenelle de brochet or poulet de bresse.
See the Hôtel de Ville: This Renaissance building is the third building that has stood there, the last building was burned down in 1871. The current building played an important role during the liberation of the city from German occupation in 1944
Take a river tour: There are plenty of tour operators on the river, tours generally take about an hour and are an interesting way to see the city and learn about its history.
Visit the Musée des Confluences: This modern science and anthropology museum is located at the confluence of the Rhône and Saône rivers. It features interactive exhibits and a stunning architectural design.
Wander around the Croix-Rousse district: Formerly the location of Lyon's silk industry, this area is now known for its street art and lively nightlife.
See the Cathédrale Saint-Jean-Baptiste: Home to Lyon's own astronomical clock, this cathedral is located in Vieux Lyon and is famous for its stunning architecture. Build on the ruins of a 6th-century church, it was finished in 1476.
How to spend three days in Nice
Day 1:
Morning: Grab a coffee and a pastry from a nearby coffee shop and head to Promenade des Anglais. Find a bench to sit on and relax whilst the city wakes up. There's something really special about the sea breeze in the morning. Either spend the morning on the beach or have a chilled walk along the seafront.
Afternoon: Head over to the Vielle Ville, Nice's Old Town. Make sure you start off at Cours Saleya, this market has an abundance of local produce for sale like fruit, flowers, and spices. There are lots of little street food stalls too which are great for lunch. Spend the rest of the afternoon wandering around Vielle Velle's cute little streets.
Evening: Have a relaxing evening at Place Masséna. Get some good Niçoise food and a few drinks and watch the world go by.
Day 2:
Morning: Get an early start and head to the Musée Matisse. A great museum dedicated to Henri Matisse, perfect for art lovers. The views from the museum are beautiful. All of his work isn't housed here so don't be disappointed if you don't see everything you wanted.
Afternoon: Visit the Cimiez Monastery, it's a stone's throw from Musée Matisse. The interior of this monastery is incredible and the gardens are even better! Before you head back to the center of Nice, have a nosy at the Ancien Hôtel Régina. This is a very famous hotel from the 19th century and was built to meet the requirements of Queen Victoria who loved to visit the Côte d'Azur.
Evening: Make your way to the seafront to ascend Castle Hill. You can go up via the stairs or the lift. Maybe take a little picnic and some wine. The views over Nice and the Mediterranean are amazing!
Day 3:
Morning: Begin your day with a visit to the Palais Lascaris. A 17th-century palace that's been turned into a museum. It's definitely one of the most beautiful museums in Nice. Its collection is mostly focused on musical instruments but its baroque interior will have you in awe.
Afternoon: Spend your afternoon at the Musée National Marc Chagall. Dedicated to the artist Marc Chagall, it's got an expensive collection of his works. Most of the collection is focused on his religious works, there are also some of his stained glass windows that are very beautiful.
Evening: Finish your trip to Nice with a visit to the Nice Observatory. It's a little outside of the city center, so you'd be better off getting the bus. It's a working observatory so you can't just wander in. There are regular tours, but they are only in French. The sunset from here is amazing, there are a couple of restaurants nearby so you can get a nice dinner and watch the sun go down.
How to spend three days in Lyon
Day 1:
Morning: Begin the day with a coffee and a croissant in Lyon's beautiful old town, Vieux Lyon. Spend the morning wandering around admiring medieval architecture whilst the city wakes up. Stop off and see Cathédrale Saint-Jean-Baptiste which has its own astronomical clock.
Afternoon: Take the funicular to the Basilique Notre-Dame de Fourvière to see the amazing views of the city. Have a look inside the Basilique for an interesting mix of Byzantine, Gothic and Romanesque inspiration. The stained glass windows are especially impressive.
Evening: Try some typical Lyonnaise dishes at a local restaurant make sure you try some local wines too. After dinner take a walk along the Rhône river and enjoy the beautiful views of the city and its skyline.
Day 2:
Morning: Visit the Musée des Beaux-Arts, one of the country's most impressive art museums. You can see works by world-renowned artists such as Rubens, Monet and Picasso.
Afternoon: Spend a relaxing afternoon at Parc de la Tête d'Or. Take in the scenery and see the botanical gardens, you could even rent a boat out on the boating lake!
Evening: Spend the evening getting a feel for the Croix-Rousse, this trendy district used to be known for its silk production but now it's full of great restaurants and cool bars. It's a bit hilly, so take some comfortable shoes!
Day 3:
Morning: One for the history buffs. Visit the Musée Gallo-Romain, this museum shows Lyon's Roman past. Entry is pretty cheap and there's plenty of mosaics, sculptures and other artifacts to see.
Afternoon: Take a guided tour of the city's traboules. There are as many as 400 of these hidden passageways throughout the city. A guided tour is definitely the best way to find and learn about them!
Evening: End your trip with dinner in the old town, this beautiful area is fantastic to visit at night. Make sure you go and try some local wines afterward at a bar.
Nice Rating
Attractions: 8
Accommodation: 7
Food and drink: 9
Safety: 9
Transportation: 7
Shopping: 8
Culture and history: 9
Nightlife: 8
Total score: 65
Lyon Rating
Attractions: 8
Accommodation: 7
Food and drink: 9
Safety: 8
Transportation: 7
Shopping: 8
Culture and history: 9
Nightlife: 7
Total score: 63